i-Throid Iodine 12.5 mg, 90 Capsules by RLC Labs
Code: i-throid-125-90ct
---
---
---
Product Details
Doctor Approved!
i-Throid®, by RLC Labs, is a superior iodine formulation created to enhance thyroid support and offer long-term, consistent results. i-Throid contains the ideal balance of iodide and free elemental iodine which is highly absorbable and binds with tyrosine to produce thyroid hormones. i-Throid works synergistically with a-Drenal™ to offer a well-rounded, highly effective thyroid treatment protocol.
Rapid Release
Optimal Bioavailability
12.5 mg Strength
Suggested Use: As a dietary supplement, 1 capsule daily or as directed by a healthcare professional.
iThroid® 12.5 mg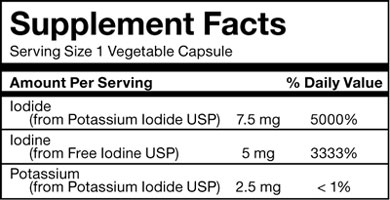 90 capsules - 12.5 mg