Zeolite AV Capsules - 90 count
Code: Zeolite-AV-90ct
---
---
---
Product Details
Zeolite-AV is a breakthrough formula that contains the highest quality of Clinoptilolite Zeolite, which is blended with a proprietary concentrated Humic acid to trap and remove toxins and free radicals from the body while supporting a healthy immune system!
Zeolite is a special, natural mineral, which has the unique ability to absorb and cleanse the body of harmful toxins and acidity. Zeolite-AV is made from the purest Zeolite possible, and works to balance pH levels and promote a healthy body.
Taking Zeolite-AV also helps to replenish trace minerals, nutrients and essential amino acids.
Suggested Use: Take 2 capsules twice daily with water.
For other needs, take 4 capsules three times a day or as directed by your health practitioner.
Do not use for more than fourteen (14) consecutive days at a maximum dose of 4 capsules three times a day unless directed by your health practitioner.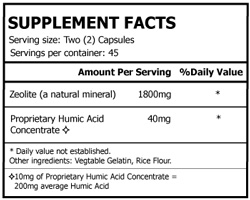 Other ingredients: Vegetable geletin, rice flour.
Warning: If you are pregnant, nursing, taking medication, or have a medical condition, consult your doctor before using this product. If you experience an adverse reaction from taking this product, discontinue use immediately.
Not intended for use by children.
Store in a cool, dry place with lid tightly closed.
Do not use if seal is broken.
90 Capsules