Vibrant Health Gentle 500 by Becky Chambers
Code: VHGentle-500_Vertical_Vibration_Machine
---
---
---
Product Details
The Vibrant Health Gentle 500 (by whole body vibration machine expert Becky Chambers), is ideal for those on a budget, or with age and/or health issues that make them more sensitive. It provides the best type of vibration—but gentler. When you stand on this vertical vibration machine that produces a motion similar to a cat purring, you will feel the vibration travel up your body into your legs. You can get vibration into other parts of your body by sitting on the machine or doing exercises where your hands are on the machine, such as push-ups.
The amplitude of the vibration motion is smaller on this machine than for the Vibrant Health Power 1000, making this machine more suited to more fragile people. There is a tower with the control panel right in front of you, and a handle to hold onto for people with balance issues.
This machine is ideal for improving overall health & wellness, or complementing an existing fitness routine. It comes with the large exercise poster included. You can choose from over 50 exercise, massage, and stretch positions to target your particular goals.
Whole Body Vibration Machines like the Vibrant Health Gentle 500 are known to support the following:
Joint Mobility
Muscle Strength
Overall circulation
Bone Strength and Density
Overall Fitness
Healthy Cortisol Levels
All Vibrant Health, LLC whole body vibrating machines use single motor vertical vibration - a type of vibration which delivers a synchronized message to your body and brain. Brain synchronization is a phenomena linked in cutting-edge research to optimal brain function and health, including creativity, problem solving, learning, and long-term memory formation (see also Becky Chambers' latest book, Homeopathy Plus Whole Body Vibration). Vibrant Health does not recommend ever using powerful double motor vibration machines as two motors can never be perfectly synchronized.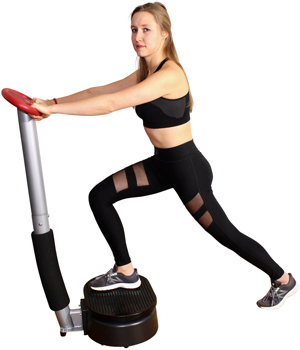 Specifications:
Dimensions: 19.3″ x 23.2″ x 46.5″
Weight: 33 lbs
Platform Size: 19.5″ x 13.5″
Tower with control panel, and handle for balance.
Manual and automatic modes
Time settings: 30 sec, 60 sec, 300 sec (5 min)
9 speed settings, in 5 Hz increments, from 30 – 50Hz
Max amplitude: 1.0-1.25 mm.
Max Load: 250 lbs.
Motor 120 watt
All Vibrant Health vibration machines were developed by one of the country's foremost experts in vibration, Becky Chambers. Becky has been using WBV herself and with her clients for almost 20 years. She is also the author of the best-selling book on this revolutionary exercise system, Whole Body Vibration:The Future of Good Health, available by clicking here; and Homeopathy Plus Whole Body Vibration: Combining Two Energy Medicines Ignites Healing.
Warranty: Home use 2-year warranty on parts and labor; commercial use 1-year warranty on parts and labor. Vibrant Health vibration machines must be returned in original shipping carton and packaging materials – save the box.
Whole Body Vibration—Contraindications
It is always advisable to consult with your physician before starting any exercise program. Ongoing research in the field of Whole Body Vibration (WBV) indicates that many people can actually benefit from this form of exercise. However, if you suffer from any of the following contraindications it is imperative that you discuss Whole Body Vibration therapy with your physician before beginning any training program with vibration equipment.

Please do not use any WBV device without first getting approval from your doctor if you have any of the following:

Relative contraindications:
Pregnancy
Epilepsy
Gallstones, Kidney stones, Bladder stones
Articular Rheumatism and Arthrosis
Heart failure
Cardiac dysrhythmias
Cardiac Disorders (Post MI)
Metal or synthetic implants (e.g.. pacemaker, artificial cardiac valves, recent stents, or brain implants)
Chronic back pain (after fracture, disc disorders or spondylosis )
Severe Diabetes Mellitus with peripheral vascular disease or neuropathy
Tumors (excluding metastases in the musculoskeletal system)
Spondylolisthesis without gliding
Movement Disorder and Parkinson
Chondromalacia of the joints of the lower extremities, osteonecrosis and chondrosis
Arterial circulation disorders
Venous insufficiency with ulcus cruris
Morbus Sudeck Stadium II (CRPS)
Lymphatic edema
Postoperative wounds
Acute Rheumatoid Arthritis
Please do not use any WBV device at all if you have any of the following:
Absolute contraindications:
Acute Inflammations, Infections and/ or Fever
Acute Arthropathy or Arthrosis
Acute Migraine
Fresh (surgical) Wounds
Implants of the spine
Acute or Chronic Deep Vein Thromboses or other thrombotic afflictions
Acute disc related problems, Spondylosis, gliding Spondylolisthesis or Fractures
Severe Osteoporosis with BMD < 70mg/ml • Spasticity (after stroke/ spinal cord lesion…)
Morbus Sudeck Stadium I (CRPS I)
Tumors with metastases in the musculoskeletal system
Vertigo or Positional Dizziness
Acute Myocardial Infarction
or if you have any concerns about your physical health!
Weight - 33 lbs. (some assembly required)