Omega-3 Fish Oil 1000mg, 180 Softgels by Nordic Naturals
Code: Omega-3-Purified-Fish-Oil
---
---
---
Product Details
Save 15% Off MSRP!
Nordic Naturals® Omega-3 offers 690 mg of omega-3 per serving, surpassing the expert-recommended dose of 500 mg per day. Adequate omega-3 intake is essential to support good nutrition and overall well-being, including healthy heart and brain function, as well as mood, cognition, and immunity.
100% wild caught sardines and anchovies
Pharmaceutical Grade
Molecularly Distilled
Non-GMO
No fishy aftertaste
Great Lemon Taste
Tested for Purity and Freshness
Every batch of Nordic Naturals fish oils is tested by a third-party certified lab for environmental toxins, including heavy metals. All fish oils are in the triglyceride form and surpass the strictest international standards for purity and freshness.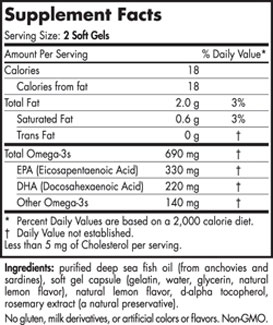 Recommended Use: Take two soft gels daily, with food, or as directed by your health care professional or pharmacist.
Warning: Consult with your physician before using this product if you are allergic to iodine, use blood thinners, or anticipate surgery.
A formula with all of its constituents present in a wholesome, natural balance, Nordic Naturals Omega-3 soft gels are an easy way to get omega-3 EFAs every day. It is a great way to maintain healthy levels of EPA and DHA—the most important omega-3 fats. This pure, non-concentrated fish oil is the perfect nutritional complement to any healthy lifestyle.
180 Softgels - 1000 mg